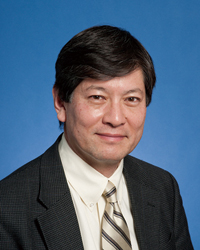 Mike Mochizuki
Professor of Political Science and International Affairs,
George Washington University
After receiving his Ph.D. from Harvard University, he taught at the University of Southern California and Yale University. Professor Mochizuki worked as a senior fellow at the Brookings Institute, as well as co-chairman at the Asia-Pacific Policy Center at the RAND Corporation. From 2001 to 2005, he was the  director of the Sigur Center for Asian Studies at the Elliott School of International Affairs at The George Washington University. He is the Japan-U.S. Relations Chair in Memory of Gaston Sigur and co-directs the "Memory and Reconciliation in the Asia-Pacific" research and policy project of the Sigur Center.
Selected Publications
-The Japan-U.S. Alliance and China-Taiwan Relations: Implications for Okinawa (co-editor and author, 2008)
-Japan in International Politics: The Foreign Policies of an Adaptive State (co-editor and author, 2007)
-The Okinawa Question and the U.S.-Japan Alliance (co-editor and author, 2005)
-Crisis on the Korean Peninsula: How to Deal with a Nuclear North Korea (co-author, 2003)